Lito Monico Lorenzana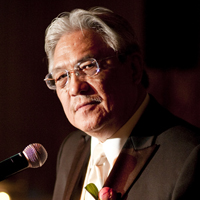 Mr. Lito Monico Lorenzana is the President and Chairman of the Board of the Centrist Democracy Political Institute (CDPI), a political non-government/ non-profit organization in partnership with the Konrad-Adenauer-Stiftung (KAS) Philippines, a German political foundation that promotes primarily political education initiatives worldwide.
Prior to the establishment of CDPI, he has served under four Philippine Presidents in various capacities as a member of the Cabinet and several Commissions.

A Harvard educated political technocrat, Mr. Lorenzana was one of the prime movers of the Citizens Movement for Federal Philippines (CMFP) way back in 2004 along with the country's well known Federalists - Dr. Jose V. Abueva, Professor Emeritus and Former President of the University of the Philippines in Diliman and Mr. Rey Magno Teves, the late Executive Director of the Technical Assistance Center for the Development of Rural and Urban Poor (TACDRUP, one of the longest serving NGOs in Mindanao.

Mr. Lorenzana is also founder of the Centrist Democratic Movement (CDM) which transitioned in 2012 into a national political party, the Centrist Democratic Party of the Philippines (CDP): Ang Partido ng Tunay na Demokrasya.

In 2012, Mr. Lorenzana became the President of the CDP and eventually in 2013 to present became the National Chairman of the party with Atty. Rufus B. Rodriguez, Former Representative of the 2nd district of Cagayan de Oro City as its new President.

He became the President of the Philippine Alumni Association during his post-graduate years in John F. Kennedy School of Government, Harvard University.