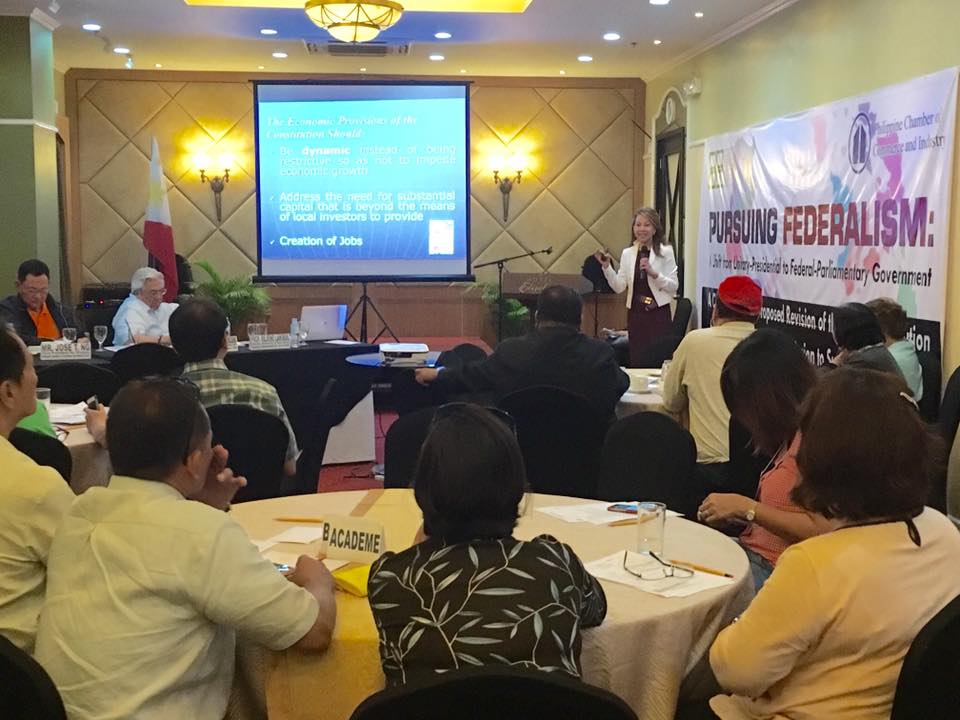 Former Commissioner Joji Ilagan Bian of the 2005 Consultative Commission presents the Features of Economic Liberalization as stipulated in the Proposed Revisions to the 1987 Constitution during the Conference in Cebu
Fifty-one participants attended in the Cebu conference conducted last July 23 with the CDPI President Lito Monico Lorenzana and two members of ConCom – Atty. Raul Lambino and Ms Joji Ilagan-Bian as main speakers.

A larger audience was gathered in Pampanga with 200 attendees from the academe and other organizations, which was also fully supported by the Pampanga Local Chamber of Commerce and Industry Chairperson Emeritus and Founding Director, Mr. Liberato 'Levy' Laus.

Held last July 28, one of the main proponents of the said initiative is the Centrist Democratic Party of the Philippines who has its members and local chapters conducting the same set of for a in various localities.
The Cebu and Pampanga FedCon, like those previously held in Davao, Manila, and Cagayan de Oro were able to generate a healthy and vibrant discussion on Federalism as well as on Parliamentary system, political party institutionalization and economic liberalization.

The Centrist Democracy Political Institute (CDPI), Philippine Chamber of Commerce (PCCI), the 2005 Consultative Commission and the local chamber of commerce hosts these set of Federalism nationwide initiatives.